Hey there honeybees! Tis I, Becca Bee with Worldwide Elopement Visuals–the traveling photo and video team based in Southwest Colorado. This is another blog of lovers, their tales of a passionate life lived and matching visuals. Where this couple ended up, IS NOT WHERE WE HAD PLANNED FOR MONTHS. No in true Colorado Events, the location we wanted to use was blocked off due to a bicycle event. We could have gone, but by the time we left, we would have been trapped till late afternoon. And rather than hurry art, we all opted: we were already waking early, so there would be no need to rush past that. So we ended up with our spicy lovers C+T, in this Spring Ridgway CO Couple Session.
Meeting these two for coffee and asking them their lovers' tale and hearing, "it's long is that okay?" HON-AY-YASSS. I am a binger of books and need to hear lovers' tales to get to KNOW WHAT I AM MAKING ART FROM… SO SPILL THE GOOD TEA.
And now you honeybees reading, grab some tea and a cozy blanket to please enjoy.
---
For It was not

into my ear

you whispered

but into my heart.

It was not

my lips

that you kissed

but my soul.

Pinterest
---
Spring Ridgway CO Couple Session
with Lovers C+T.
WEV: HELLO, HOT POTATO AND SPICY DORRITO! *Cough* we mean LOVERS! Okay, way too much energy because it makes no sense to call you hot potato or spicy Dorito. OKAY, so as always batter-batter, up first is: how long have yall been together?
Calli: 1 year and almost 7 months
T: A little over a year!
WEV: Full disclosure, these guys answered months apart. So readers, no eyebrows! We ask couples to answer in their own time as blogs can always be written then. Always show up authentically, because that's how art gets made. Anyhow back to these two lovers, ah a year filled with love no doubt.
WEV: So from the shallow question to diving deep. Spill the tea. What is the long version of your lover's tale? How did the stars align to bring you guys together? How did you guys meet?
T: Oh boy! The long version could be at least a full two-hour romance film. The long-short version started at the end of 2017. I walked past Calli at work and in those seconds something shifted inside of me. It was the first time I had been attracted to a woman and I wasn't quite sure what to do with that realization. I was in a long-term relationship at the time and decided it was an interesting moment but I let it go and didn't see Calli for over a year. In the summer of 2019, we started working the same shifts at the hospital and a couple of friends and I were going out to dinner for my 25th birthday after work. We invited Calli and that was the start of our friendship. I got engaged to my long-term boyfriend that fall and Calli left town for the winter.
Calli ended up breaking up with her long-term girlfriend that spring of 2020 and I happened to be her third choice friend to call on that very bad day. I wasn't working that day so I picked her drunk self up in the morning and did my best to be a good friend as she felt all the emotions of a devastating breakup. That day ended up being some kind of portal we stepped through and our friendship instantly deepened from there. A month or so later, Calli offered to officiate my wedding and planned a local bachelorette party for me. My bachelorette weekend was a blast and I kept trying to convince myself out of my attraction to Calli. At this point, I was trying to convince myself I was crazy and just nervous to get married. My wedding day came and went and Calli did an amazing job as officiant and supportive friend. As the excitement and stress of planning a wedding during COVID 2020 ended and the magic of the wedding itself wore off, I had a harder time distracting myself from hard truths I had been avoiding.
That fall and winter of 2020 I became painfully aware of things I had tried to ignore regarding my almost 6-year relationship and dived deeper into myself. In February of 2021, Calli and I went on a group trip to Key West with family and friends. On the last night of the trip, a stormy full moon in Virgo, I admitted to Calli that I had been attracted to her since the moment I first saw her. Calli was literally the only person on that trip and in my close circle of family/ friends that didn't know this, but admitting it out loud to her was terrifying. We spent the next day discussing how to maintain our friendship and boundaries to protect my marriage but we had stepped through another portal that night.
Over the next six weeks, my marriage inevitably fell apart due to numerous reasons and I made the hardest decision of my life- to walk away from a life that wasn't in alignment with who I had become. The next few weeks were devastating and painful and with nowhere else to go, my dozens of plants, a large dog, and a cat, and I moved in with Calli while I began picking up the pieces. Despite never discussing what would happen if I got divorced, our friendship quickly transitioned into love. The transition was an exhale. Effortless. Seamless. A trust fall.
WEV: Welp, not going to lie, there are tears in these eyes. The love, the analogy of seamless trust fall. All of it. Just wow. Okay, Calli you're up, the same question. Your version of your lover's tale. Tissues are nearby.
Calli: Taylor and I met in 2019. I joined her friend group when I switched jobs and began working the floors. We became best friends after I called her at the end of March 2020 during my breakup. She wiped my tears that day and our friendship deepened. At this time she was planning in the beginning stages of planning her wedding. The pandemic started in the spring of 2020 and so did our beautiful friendship. I volunteered to officiate her wedding in August of 2020 and planned her West Slope bachelorette party. Her bachelorette party was a success. We drank wine and had dinner at 626 on Rood (which is now one of our favorite restaurants).
After dinner, we hit a few dive bars in Grand Junction before heading back to our hotel. Taylor and I shared a bed that night. In my tipsy state, I opened my arms up for a hug while laying on the bed and Taylor just laid her head on my chest and we fell asleep. The next morning I woke up extremely anxious because I had fallen asleep with my best friend's head on my chest. I was confused and
unsure of my feelings. Taylor got married at the end of August 2020. She looked absolutely beautiful. After her wedding, our friendship continued to deepen and grow.

We went on a vacation to Key West in February 2021 to destress from the pandemic and work. While on vacation Taylor told me that she found me attractive and had a crush on me. This information immediately gave me butterflies and permission to think about the crush I had on my best friend. The weeks following this conversation were terrible for Taylor. I did my best to be a neutral best friend as she was deciding how to move forward.
At the end of March 2022, Taylor separated from her husband and moved in with me (because there are zero rentals that would allow a cat and a gigantic dog). During this time I never told Taylor what was overflowing from my heart. She needed to make all the decisions with no input from me. We had two beds in our tiny bedroom and she never slept in it.
WEV: Okay, feeling like Oprah here. You get hit with feels, you get hit with feels, you get hit with feels. First off your Lovers' Tale is simply stunning, powerful and a testament to selfless love. Secondly, thank you for sharing, and representing your community so strongly. Thank you for being strong in pride of the love you found. Seriously so potently powerful. Definitely could reread and just sit in awe. In the same awe, we sat together over coffee when this tale was first told. Seriously. These lovers from this Spring Ridgway CO Couple Session came to make it steamy.
---
You will ask

for a match

and I will

give you

a wildfire.

I don't know

how to love small.

Erin Van Vuren
---
Lovers Calli + Taylor bring the romance to their
Spring Ridgway CO Couple Session with Worldwide Elopement Visuals
WEV: Okay, so now we that got the GOOD TEA, lets slide to the first date. How long after meeting, did the first date happen? How was it? Was it an easy second date, yes? OR a maybe of a second chance?
Calli: Our first date happened very quickly after Taylor moved in. She took me to our favorite restaurant and to a wine tasting for my birthday. For the first date I planned we woke up early and watched the sunrise over the Black Canyon. I made a playlist of songs that made me think of her and we listened during our drive to the canyon. After the sunrise we went and had a giant breakfast at Starvin Arvin's.
T: Years. I took Calli on our first date to a wine tasting and dinner at our favorite restaurant on her 29th birthday. It was magical. Our second date was the next day- Calli played a romantic playlist she made for me as we drove up to the Black Canyon and watched the sunrise together. We had a ridiculously large but delicious breakfast at a local diner afterward. Also magical. 10/10 recommend dating your best friend.
WEV: Wow, oh wow. This is so sweet, and honestly a mix of fancy and simply old-school dates. Which melts us, like Olaf in summer. Not to let go of the romance, who said "I love you" first?
T: Calli.
Calli: I said I love you first. Taylor asked me what I was thinking and I told her "how much I love you."
WEV: The following TS gif is us, rising in awe and needing to hug you both, HOW ARE YOU REAL?! You are hallmark but better. Because you are real!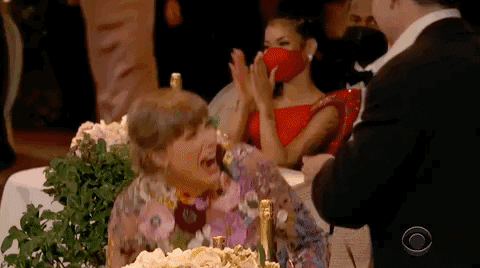 WEV: Flip side now, pet peeves and how do you manage to deal with them?
Calli: No pet peeves. I literally love everything about her.
T: No real pet peeves lol. As two women madly in love with each other that were best friends first, we have more in common than not.
WEV: Okay, so we really are not letting the love go! Amazing, and any strong love always has trials and tribulations, mind sharing yours?
T: Navigating the opinions and assumptions of others when my marriage ended and our relationship began not long after. Our mantra has been to stay "present in the complexity".
Calli: The toughest tribulation we have faced is how her family acted after her divorce. There was little support and a lot of unkindness. My best advice is to just love your partner. Love hard and fully. Love is so much stronger than hate.
WEV: You guys are the definition of love wins. Swooning away over here, yalls love is so courageous and with the depth of the ocean. Really hoping to all lovers reading, even those in the self love journey, they read this raw honesty of love that wins… and acknowledge they deserve this kind of love. You guys are so much more than your Spring Ridgway CO Couple Session, and so beyond stoked about that we were able to capture this energy. Thank you so much for showing up authentically, and making art from your epic love.
Getting back to the love that made art in this Spring Ridgway CO Couple Session.
WEV: What are the top 5 things you admire in your partner?
Calli: Her kindness, compassion, patience, openness, and courage. She is the best person I know.
Taylor: 1. Her passion for life 2. Her effortless ability to light up any room she enters and make people smile and laugh 3. How deeply she feels and cares 4. Her amazing cooking 5. How well and effortlessly she loves me.
WEV: Wow, just keep showcasing this potently, powerful love of yalls. This is seriously better than a romance novel, hallmark and romcom. Due to the fact that…this. is. REAL.
WEV: So from favorite things to top 3 Relationship rules that are your secret sauce to your Lover's Tale?
T: Date your best friend. Don't settle for less than you've always dreamed of. Stay present in the complexity.
Calli: Communicate. Go to bed at the same time. Ground each other. Kiss and cuddle every chance we get.
WEV: These are fantastically EASY rules! Defintely want to now ask couples how their rules come about!
Fast trivia with Lovers Calli and Taylor
WEV: What is each of your favorite food?
Calli: Taylor loves pizza and ice cream. I love mac and cheese and potato chips.
Taylor: Mine is pizza and ice cream. She has many but pasta and chocolate chip cookies are a couple of her top faves.
WEV: ALRIGHT ALRIGHT, SOOO NOW FOR WHAT IS TYPICALLY THE FIRST QUESTION IN 20 QUESTIONS, FAVORITE COLORS, AND GO!
T: Mine is turquoise and hers is deep ocean blue.
Calli: Taylors favorite color is turquoise and mine is a deep blue.
WEV: See we started harmless, and ended harmlessly. No one is gonna know we dived deeper than the ocean… oh wait. They will because they will read along this journey! Now time to move on to the own traveling part of this Lovers Tale.
---
When you find a heartbeat

that calms your the storm in

you, hold it close with

everything you have.

e.D.
---
Spring Ridgway CO Couple Session
Time to Travel with these lovers
WEV: Again, starting off easy: Overall what is your favorite aspect of Colorado?
Calli: THE MOUNTIANS and four seasons.
Taylor: The awe-inspiring mountains and beautiful seasons- lots of sunshine!
WEV: Okay so as mentioned in start, where we ended up, was not the intended location. You chose the quaint mountain town of Ouray for your adventure visual art session to tell your Lover's Tale! Why and what is your favorite aspect of the town?
Taylor: Ouray is called the Switzerland of America for a reason! It is stunning up there and the views never get old.
Calli: The surrounding mountains. It is like being outside of the United States.
WEV: We do love Ouray, and love having a reason to explore the terrific town.
WEV: Due to road closures, Ridgway Colorado became the back up! On the way back, we all wished Ridgway were cheaper, what about Ridgway makes your heart beat rapidly?
Calli: It's a small liberal town surrounded by mountains. What could be better?
T: Those breathtaking mountain views! It is such a peaceful town too.
WEV: It is a pretty quaint town and made a perfect location for yalls Spring Ridgway CO couple session! So do you think it is still important to capture your memories when traveling in your own state? As well as in between milestones? If so, why?
Taylor: Of course! We cherish all of our memories together and our story started here! We are obsessed with our love story and celebrate it and each other constantly.
Calli: YES. Pictures help me remember events. Its like a little reminder of a beautiful moment.
WEV: THANK YOU. THANK YOU. THANK YOU. Living in this beautiful state it is easy to forget to not celebrate and memorialized memories made. Okay, with you two being such a role models for how to love so fiercely. They say traveling can make or break a relationship, what is your go to travel advice for fellow lovers?
Calli: Get to the airport early and drink more water than you think you need.
Taylor: Be flexible and enjoy the adventure!
---
I will love you on the days when laughter spills out of you – when there is so much light,
it illuminates everything we see. I will love you on the days when your heart feels heavy
– when life appears messy and the darkness blurs our way. I will love you when the
world feels like opening itself up and when it unanticipatedly feels like it is closing in. I
will love you through your past and your future – through your accomplishments and
your mistakes. I will love you during the fearless adventures and the humble nights at
home. I will love you when you're hurting, when you're healing, when you're broken,
and when you're complete. When it comes to you and me, there isn't a "sometimes" –there's just an "always." As long as we're together – you'll never have to wonder. You'll
never have to question – I'm all in.
---
Lovers Calli and Taylor Review Worldwide Elopement Visuals
WEV: What about Worldwide Elopement Visuals artworks made you excited to step in front of the lens?
Taylor: Your unique style and passion for your art! Also you were both so personable and fun to chat with during our first meet up!
Calli: Just the ability to capture love.
WEV: Aw, that first meet up literally made us so excited. Seriously the moment yall went "this is a long story", we knew your love would paint art. However we were worried our excitement might make us forget things. During preparation for this session, from stylizing to planning spots, and poses and video, were you ever feeling lost or confused? If not what were you feeling?
Calli: No confusion. Just excitement.
Taylor: Nope! Just super excited!
WEV: SO HAPPY TO KNOW WERENT JUST THE ONLY ONES EXCITED!!!! SERIOUSLY SO HAPPY TO HAVE MET YALL LET ALONE BE ABLE TO CAPTURE YOUR LOVE.
WEV: Next question, what part of this experience made you most excited?
T: Spending time with my lover in a beautiful location with our new friends!
Calli: Getting to take pictures with my best friend.
WEV: Can we answer, "SAME" to this question? Like we love building a connection with each of our lovers so we can give them the space of just being. And then making new friends! Were you excited about the location, for photos and video artworks?
Calli: Yes. The San Juan mountain range is so beautiful, but my girlfriend in front of those mountains is just magical.
Taylor: YES!
WEV: Now as you know, we are big on the comfort and consent not just in poses, but in outfit planning too! Did you feel like your outfits matched your personalities and preferences? Did you guys feel like yourselves?
Calli: ABSOLUTELY!
T: YES!
---
"I once believed love would be burning red, but it's golden like daylight."

– Taylor Swift
---
Wrapping up this Spring Ridgway CO Couples Session
with Lovers Calli and Taylor!
WEV: For non-blog readers, what is a review we can share on social media?
Taylor: Becca and Ben are the best. They were so personable and fun to chat with on our first meeting and made us so comfortable in front of the camera! Great cueing and posing! We both felt like we got to be ourselves and focus on our love. So much laughter and so many candid moments throughout the session. They work together so well and are both so passionate about their art! And a picnic was included- such a unique and yummy addition! We are already obsessed with our photo/ video sneak peaks and can't wait to see the rest!
Calli: Such a good experience. We felt comfortable and at ease! The conversation was great and we felt like we were just hanging out with old friends. 10/10 recommend.
WEV: Oh so you really want to melt us like Olaf in summer. Okay, yall bring the hype for everyone not just for one another! Last question, is there a question we should have included?
Calli: Describe your love story with 5 words.
Taylor: I thought it was pretty thorough as is!
WEV: Wow, okay adding that question, Calli to future interviews!!! Before we sign off, we would like to thank each of you for showing up so authentically from the very first meet up, to the session. Thank you for keeping that authentic energy while answering this interview, we never thought talking about a lovers tale might come with pains past the growing kind. So thank you for opening up honestly and sharing how to let love win. As well as honor it, celebrate it and love fiercely. Thank you for being so courageous and kind.
---
Hey Honeybees!
If you see yourself, joining this hive of honeybees, join our waitlist!
We can not wait to let your lovers tale paint art! So buzz into the hive.
Till Next Buzz, honeybees!
---
Aloha Lovers,
Where is your lover's tale taking us?
CIAO!
Now gotta go make extraordinary art from incomparable love
as a duo of an artist with a camera and an author with film.